World Economic Situation and Prospects as of mid-2023
World Economic Situation and Prospects as of mid-2023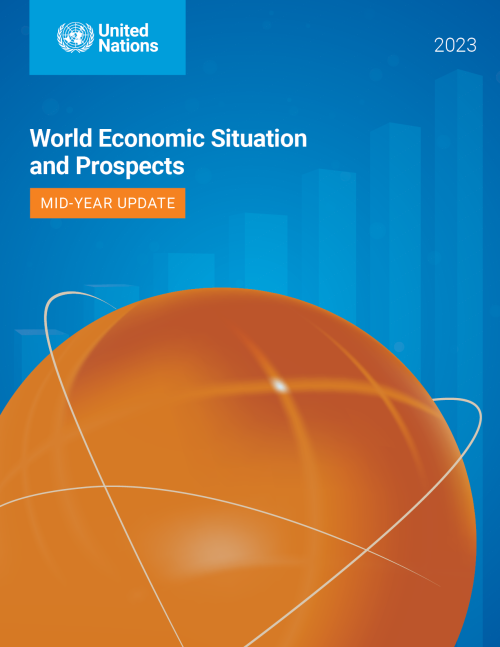 Category:
Economic Analysis and Policy
Citation:
United Nations (2023). World Economic Situation and Prospects as of mid-2023. E/2023/80. New York.
Prospects for a robust global economic recovery remain dim amid stubborn inflation, rising interest rates and heightened uncertainties. Instead, the world economy faces the risk of a prolonged period of low growth as the lingering effects of the COVID-19 pandemic, the ever-worsening impact of climate change and macroeconomic structural challenges remain unaddressed, according to the World Economic Situation and Prospects as of mid-2023 released today.

According to the report, the world economy is now projected to grow by 2.3 per cent in 2023 (+0.4 percentage points from the January forecast) and 2.5 per cent in 2024 (-0.2 percentage points), a slight uptick in the global growth forecast for 2023. In the United States, resilient household spending has prompted upward revision of growth forecast to 1.1 per cent in 2023.  The European Union's economy—driven by lower gas prices and robust consumer spending—is now projected to grow by 0.9 per cent. China's growth this year is now forecast at 5.3 per cent as a result of COVID-19 related restrictions being lifted.  

But a sombre picture still remains. Despite this uptick, the growth rate is still well below the average growth rate in the two decades before the pandemic of 3.1 per cent. For many developing countries, growth prospects have deteriorated amid tightening credit conditions and rising costs of external financing. In Africa and Latin America and the Caribbean, GDP per capita is projected to increase only marginally this year, reinforcing a longer-term trend of stagnating economic performance. The least developed countries are forecast to grow by 4.1 per cent in 2023 and 5.2 per cent in 2024, far below the 7 per cent growth target set in the 2030 Agenda for Sustainable Development.

"The current global economic outlook presents an immediate challenge to delivering on the SDGs," said UN Under-Secretary-General for Economic and Social Affairs, Li Junhua. "The global community must urgently address the growing shortages of funding faced by many developing countries, strengthening their capacities to make critical investments in sustainable development and helping them transform their economies to achieve inclusive and sustained long-term growth." 
 
Related Sustainable Development Goals