World Economic and Social Survey 2010: Retooling Global Development
World Economic and Social Survey 2010: Retooling Global Development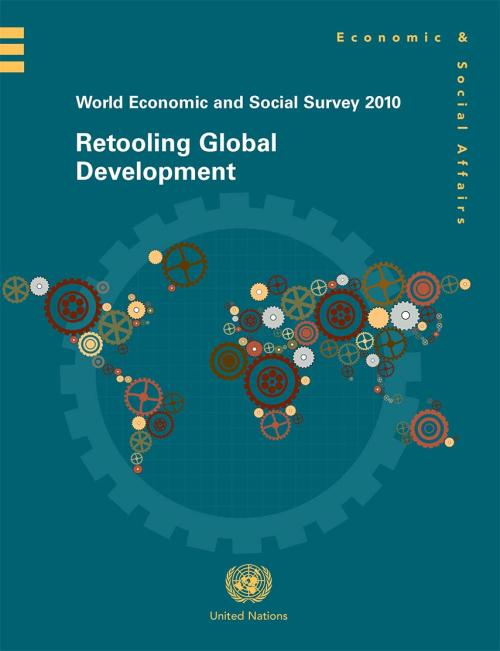 Category:
Economic Analysis and Policy
Citation:
United Nations (2010). World Economic and Social Survey 2010: Retooling Global Development. New York.
The financial fallout in the USA which rapidly turned into a global economic crisis underscored the interconnectedness of the global economy. The economic and financial crisis came on top of several other crises. Skyrocketing but highly volatile world food and energy prices evidenced a decades-long neglect of food agriculture and failure to rein in increasingly speculative energy markets. And the effects of climate change, which is already a clear and present danger whose consequences are being felt in many part of the world in the form of more frequent and severe droughts and excessive rainfall, are compounding other crises.
These multiple dramas have unfolded simultaneously and have exposed major weaknesses in those mechanisms of global governance designed to face up to these challenges. While the strong desire for quick economic recovery in understandable, getting "back on track" would mean returning to an unsustainable path of global development. Sustained and widespread future prosperity will require major reforms in global economic governance and new ways of thinking about global economic development.
Global solutions must be found for global problems and, given the interdependence of these problems, policy responses will need to be highly coherent at various levels if the international community is to achieve the multiple objectives of fair and sustainable global development. Because of the complexity of global challenges, pursuit of these goals will not be easy. It will require not only new ways of thinking but also a new balance between decision-making processes at national and global levels.
Retooling global development along these lines is the main theme of this year's World Economic and Social Survey. The Survey highlights the inconsistent features within international mechanisms of official development assistance, trade, finance and international payments and presents options for overcoming these problems through strengthened cooperation. The scope of the resulting overall agenda is predictably - - and unavoidably - - enormous. But should such an agenda not be implemented, the toll taken by unfolding global events will become uncontrollably high, leading to severely diminished international cooperation and worldwide conflict and widespread poverty.
Related Sustainable Development Goals