Report on the World Social Situation 2016: Leaving no one behind: the imperative of inclusive development
Report on the World Social Situation 2016: Leaving no one behind: the imperative of inclusive development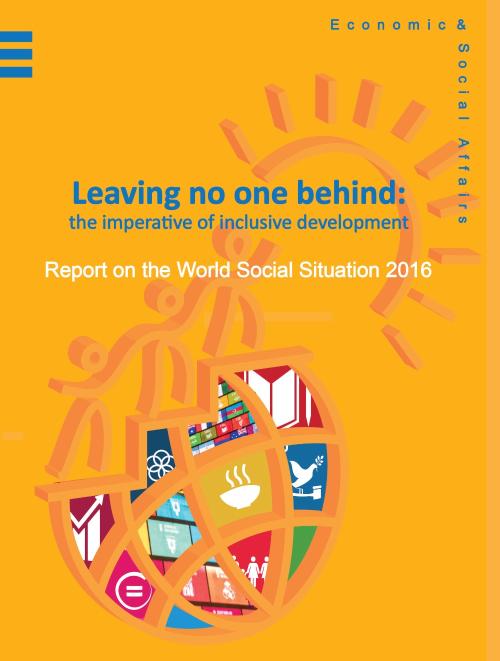 Category:
Social Development
Despite unprecedented social progress around the world, many people continue to face social exclusion and limited access to social, economic and political opportunities, warns a new United Nations report. The 2016 Report on the World Social Situation, entitled Leaving No One Behind – The Imperative of Inclusive Development, released today by UN DESA, examines the social, economic and political disadvantages that some groups of the population face, namely youth, older persons, ethnic minorities, indigenous peoples, migrants and persons with disabilities.

It also makes policy recommendations to help governments overcome development hurdles and address barriers that limit people's access to opportunities.

"The Sustainable Development Goals recognize that development will only be sustainable if it is inclusive," said Wu Hongbo, the UN Under-Secretary-General for Economic and Social Development. "Pursuing development grounded in social justice will be fundamental to achieving a socially, economically and environmentally sustainable future for everyone."

Recent data, both from developed and developing countries, shows that children with disabilities and those belonging to ethnic minority groups have a significantly less chance of completing lower secondary education than other children. In the labour market, youth, migrants, women and indigenous people are more often unemployed. They receive lower salaries and are even more likely not to receive any salaries at all.

Moreover, today, more than 150 countries have at least one law that discriminates against women, and in many countries women are less likely to vote and are significantly underrepresented in public office.

Assistant Secretary-General for Economic and Social Development Lenni Montiel noted that the report confirms that people's chances in life depend significantly on social distinctions that separate people and communities into unequal groups.

"Not only are these differences in life chances fundamentally unfair, they also lead to loss of human potential and development opportunities," he added.

The report finds that people who face one form of disadvantage tend to suffer from others too. For instance, limited access to health care and education go hand in hand with higher levels of unemployment and lower levels of income.

A key recommendation from the report reiterates the importance of universal social policies and inclusive institutions. In order to ensure that no one is left behind, the report underscores the need for changing social, cultural and political norms as well as attitudes and behaviours.
Related Sustainable Development Goals