MDG GAP Task Force Report 2009: Strengthening the Global Partnership for Development in a Time of Crisis
MDG GAP Task Force Report 2009: Strengthening the Global Partnership for Development in a Time of Crisis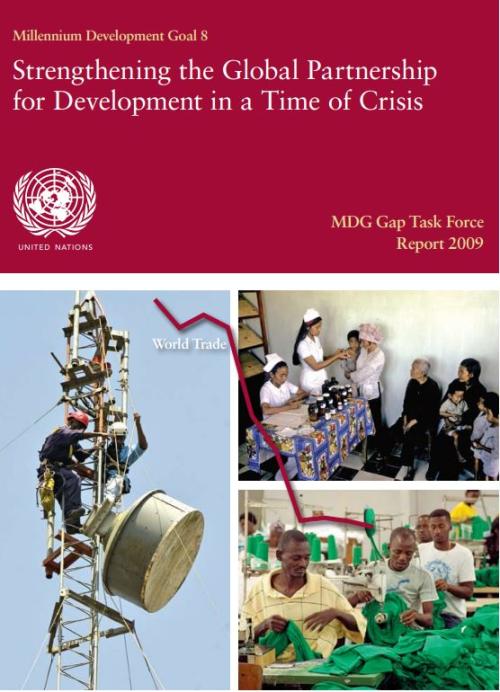 Category:
Economic Analysis and Policy, Financing for Development, Sustainable Development
Citation:
United Nations (2009). MDG GAP Task Force Report 2009: Strengthening the Global Partnership for Development in a Time of Crisis. New York.
The present report recognizes that further progress has been made towards fulfilling the promises embodied in Millennium Development Goal 8 (MDG 8). At the same time, it identifies important setbacks, most of which have arisen from the current state of the world economy which is suffering its severest downturn since the Great Depression of the 1930s. Some donor countries are cutting their budgets for official development assistance (ODA); several developed and developing countries have resorted to protectionist measures; resurging debt distress is increasing the need for further and broader debt relief; the costs of essential medicines are on the rise; and the technological divide between developed and developing countries seems likely to widen further. These effects are compounding the devastating consequences that the global downturn is having within the developing countries themselves. Not only is progress towards the MDGs slowing, but in many areas, even the hard-won gains of recent years are under threat. The crisis has intensified the need for strengthened global partnerships for development as reflected in MDG 8.
The globally concerted actions which are being taken at an unprecedented level in response to the worldwide slowdown include those agreed upon by major economies at the London Summit of the Group of Twenty (G-20) in April 2009. The Summit agreed to provide large-scale emergency financing, to secure funding for low-income countries and to initiate major reforms to regulate global financial systems and international financial institutions. It also reaffirmed all existing commitments to increase ODA and provide debt relief to developing countries, as well as to resist new forms of protectionism. Nonetheless, delivery of these commitments has become more difficult as the slowdown continues.
In the countdown to 2015, and amidst a global economic crisis that originated in the developed countries, the need to accelerate delivery of MDG 8 commitments in all their dimensions has now become an emergency rather than simply a matter of urgency. Strengthening global partnerships by delivering on all commitments in the areas of aid, trade, debt relief and access to affordable medicines and new technologies is critical in order to prevent the economic crisis from turning into a development crisis.
Related Sustainable Development Goals