2018 Voluntary National Reviews Synthesis Report
2018 Voluntary National Reviews Synthesis Report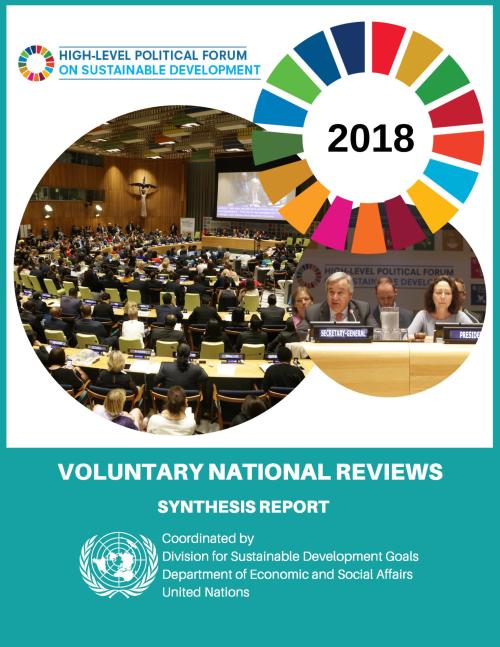 Category:
Capacity Development, Sustainable Development
The 2018 High-Level Political Forum (HLPF) on sustainable development took place from 9 to 18 July. A total of 46 countries presented voluntary national reviews, up from 43 countries that conducted reviews in 2017. Since the inaugural reviews in 2016, 111 reviews have been presented, by 102 countries, with a number of countries conducting second reviews. Looking ahead to the 2019 HLPF, it is anticipated that 51 countries will present their national reviews, of which 41 will be doing so for the first time.
The voluntary national reviews document how countries are tackling the transformative challenge of the 2030 Agenda. The reviews are country-specific and complement the broader thematic review of progress that also takes place at the HLPF.
This report synthesizes some of the findings of the VNRs, drawing from the written reports. As in the prior two synthesis reports, this edition uses a theme-based analysis, based largely on the Secretary-General's voluntary common reporting guidelines. The report examines the efforts of reporting countries to implement the 2030 Agenda, including challenges, gaps, achievements, and lessons learned.
In their reviews, countries describe steps taken to incorporate the 2030 Agenda into national policies and plans. This takes place with varying degrees of formality—for some countries, the planning documents explicitly mention the SDGs and enshrine the Agenda as a blueprint for development, while others have matched the national priorities with the SDGs. The substance of national implementation also reflects these interlinkages, and in this regard, countries emphasized the multidimensional nature of poverty, for instance, or the cross-cutting aspects of health and human wellbeing. The reviews highlight that bringing the SDGs into the national context relies on a range of actors, including local governments, private business, civil society, academia, as well as individuals willing to change their behaviour.